Rodamiento radial de bolas xiros®, xirodur S180, bolas de acero inoxidable, jaula de poliamida (PA), mm, negro para partes visibles
buen funcionamiento
Resistentes a la suciedad
Económico
xirodur® S180 | The all-rounder in black
The widest range of plastic ball bearing applications is covered by xirodur® B180. However, if the color "white" does not suit your application, for example if the bearing is designed as a visible part, the material xirodur® S180 is the right one. This material offers almost identical technical properties to xirodur® B180, but is not quite as wear-resistant. Its characteristic feature is its black color, which also offers greater UV resistance than xirodur® B180. This also makes it perfect for outdoor use.
Typical areas of application:
Machine visible parts
Guide rollers for labelers
Automotive
Tolerances and measuring system:
The tolerances for inner and outer diameters depend on the size. These are often approx. ±0.05 mm to the nominal dimension. The bearing rings are usually injection molded and naturally exhibit a certain ovality. For this reason, the caliper gauge is used to measure 90° to the injection point (if present) over the entire width of the bearing. The dimensions and tolerances are designed to meet an easy press fit by hand when using a H7 mounting as well as shaft h6. Additional axial securing by means of a circlip (shaft) and snap ring (housing) is recommended to prevent axial displacement.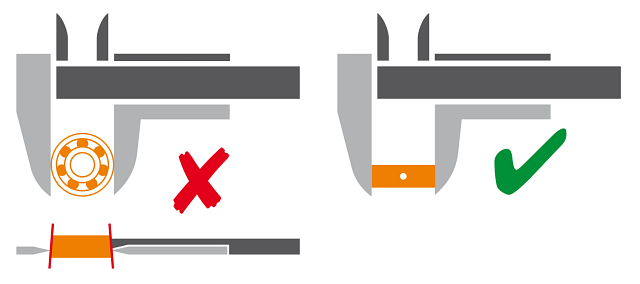 Mounting recommendation:

1. mounting (tolerance H7)
2. front side (balls visible)
3. rear side (cage visible)
4. press in ball bearing with front side first
5. mount shaft (tolerance h6) with chamfer
6. an axial safety device must be provided